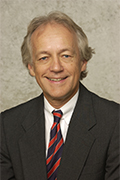 Edward Glab, Ph.D.
Co-Director of Global Energy Security Forum
Jack D. Gordon Institute for Public Policy
---
Email: glabe@fiu.edu
Bio
Edward Glab is the Co-Director of the Global Energy Security Forum at FIU. He joined the Business School at FIU as Director of the Knight-Ridder Center in 2004 after retiring from ExxonMobil, where for over 25 years he held a variety of positions in public affairs. He has conducted business and traveled in 76 countries around the world. He has taught at Northern Illinois University and the University of Texas at Austin. He has also been a Fulbright Professor at both the University of Chile and La Catolica in Santiago, Chile. He has published a number of articles, edited one book and ran a nation-wide project funded by the National Endowment for the Humanities in the area of bilingual-bicultural education. He has been working on alternative energy for the past three years. He received his Ph.D. in political science from Northern Illinois University in 1975.