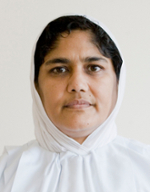 Samani Pratibha Pragya
Visiting Assistant Teaching Professor
Religious Studies
---
Office: DM 320C
Phone: 305-348-7121
Bio
Dr Samani Pratibha Pragya is a scholar of Jain Studies and her specialisms include Jain Yoga, Comparative Religion, Comparative Philosophy, Meditation & Spirituality, Nonviolence, Sanskrit, Prakrit, Hindi Languages, and Jain Terapanth lineage, to which she belongs as a Samani (saint). She is a senior disciple of Acharya Mahashraman. Her current research centers on the history and methods of modern Jain meditation and yoga.
She received her Ph.D. in "Prekṣā Meditation: History and Methods" from SOAS. At present, she is working as a Visiting Research Fellow at SOAS with Dr. Flügel on Terapanth data pertaining to the Jaina-Prosopography project. She had established JVB Jain World Peace Centre, London. At present, she is the spiritual head of it and is an authorized Prekṣā yoga and meditation teacher. She initiated a rural development project at Tamkore, Rajasthan, and established Mahapragya International School there. She worked for underprivileged girls' education in Jhunjhunu district.
Areas of Expertise: 
Jain Philosophy & Comparative Religion; Preksha Meditation & Yoga; Science of Living.