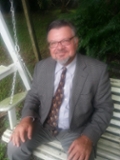 Bio
Dr. Holbrook earned a Master's in Latin American and Caribbean studies in 2005 and Ph.D. in Latin American history in 2013. He lived for 2 years in Colombia as an exchange student (Universidad de Los Andes) and has traveled extensively in Latin America. He has four children and eight grandchildren. His wife died of breast cancer in 2012 and he remarried in 2023. Besides reading, smoking cigars, and listening to Latino music, his favorite thing is helping students learn and grow. 
Since receiving his doctorate, he has been teaching courses in religious studies, history, and more recently Latin American Studies. He was appointed the Director of Academic Programs for the Latin American and Caribbean Center in 2017 and in 2022 he became involved in the development of a Christian Studies certificate program.  His interests include the history and religion of Latin America, secularization and pluralism in contemporary Western society, university and youth movements in the Americas, mythology, and the tension between faith and ideology. 
Areas of Expertise
Religion in Latin America, twentieth-century Catholicism, contemporary Evangelicalism, Religion Analysis and Interpretations.