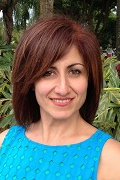 Milena Neshkova
Associate Professor
Public Policy and Administration
---
Office: PCA 350B
Phone: 305-348-0486
Email: mneshkov@fiu.edu
Bio
Dr. Neshkova's primary research interests are in political and organizational theories and their applications to public policy and public administration at both domestic and international levels. Currently, Dr. Neshkova conducts research on how to reconcile the values of bureaucracy and democracy. More specifically, she examines how citizen input affects efficiency of public service delivery. She is also undertaking research on the effects of administrative reforms in the new East European democracies.
Dr. Neshkova's dissertation deals with issues of representation and responsiveness within international institutions. To pursue this research, she was awarded two prestigious grants: one from the National Science Foundation and another from the European Union Center of Excellence at Indiana University (sponsored by the European Commission). Prior to joining the FIU faculty, she worked with Prof. Evan Ringquist from Indiana University on a NFS-funded project whether legislators keep their promises once elected.
Prior to coming to the U.S., she had a successful journalistic career at a leading Bulgarian newspaper. Her editorial work during the time of transition and democratization in Bulgaria introduced her to the very practical aspects of public policy and administration and became the basis of her academic work. At Indiana University, Dr. Neshkova has taught courses in public administration, public management, and statistical methods at doctoral, master and undergraduate levels. Her instructional expertise has been recognized with the SPEA Dean's Award for Excellence in Teaching. She holds an MA in Journalism from Sofia University and MPA and Ph.D. degrees from the School of Public and Environmental Affairs (SPEA) at Indiana University-Bloomington."