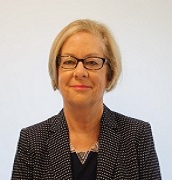 Meredith Newman
Distinguished University Professor
---
Phone: 305-348-5892
Email: newmanm@fiu.edu
Biography
Meredith A. Newman, Ph.D., is a Distinguished University Professor and Professor of Public Administration at Florida International University. In her immediate past role as Vice Provost for Faculty and Global Affairs, she worked to oversee all initiatives that support faculty, including recruitment, promotion and retention of faculty and other areas that relate to a professionalized faculty and career progression. Additionally, she oversaw FIU Global, which centralizes the university's global initiatives in regard to planning, facilitating, coordinating and initiating partnerships with international institutions and organizations. 
Dr. Newman joined FIU as Director of the School of Public Administration in 2006. She subsequently served as Chair of the Department of Public Administration before joining the Dean's office at the College of Arts & Sciences in January 2013 as Senior Associate Dean and subsequently as Vice Dean. Her successful academic career includes appointments at the University of Illinois Springfield and at Washington State University Vancouver. Prior to her career in academia, Newman served with the Australian Foreign Service, the U.S. Department of State, and the World Bank, including tours of duty in France, Viet Nam, Senegal, Malaysia, and Republic of Singapore.
Dr. Newman is recognized as one of the leading experts in the field of public management and the emotive aspects of work. Dr. Newman's books have won numerous awards. Her impact on the field and contributions to the profession have been recognized by a series of awards, such as the Lifetime Achievement in Public Human Resources Scholarship Award of the American Society for Public Administration; and the O.P. Dwivedi Award for Outstanding Contribution to the Advancement of Public Administration and Public Policy in the World of the International Association of Schools and Institutes of Administration.
Dr. Newman is a past Chair of the Commission on Peer Review and Accreditation of the Network of Schools of Public Policy, Affairs and Administration (NASPAA); a Past Vice President for International Cooperation, the International Association of Schools and Institutes of Administration (IASIA); and a Past President of the American Society for Public Administration (ASPA). She is a Fellow of the National Academy of Public Administration (NAPA).