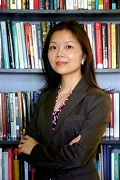 Jin (Julie) Zeng
Associate Professor
Politics and International Relations
---
Office: SIPA 411
Phone: 305-348-0395
Email: jzeng@fiu.edu
Bio
Dr. Jin Zeng is Associate Professor of Politics and International Relations at Florida International University. Her primary research interests are political economy of development, state-society relations, and the politics of economic reform, with a focus on China. She is the author of the book, State-Led Privatization in China—The Politics of Economic Reform (Routledge, 2013). In that book, she examines the initiation, implementation, and dynamics of privatization in China. Building on rich fieldwork data gathered in three Chinese cities (Shenyang, Shanghai and Xiamen), the book offers the first comparative study of China's privatization processes at the local level. Instead of perceiving the reform as either top-down or bottom-up, Jin Zeng adopts a multi-level interaction approach to examine how the complex interplay of the central leadership, grassroots officials, and state-owned enterprise managers and workers shaped the contour of privatization in China. Dr. Zeng has also published articles in scholarly journals such as Third World Quarterly, Journal of Chinese Political Science, and Asian Perspective.
Dr. Zeng is currently working on two research projects. First, she explores how the recent reform of rural land use rights transfer was implemented in China and what impact the reform had on China's small farmers and agricultural production. The goal of the research is to evaluate recent land reform measures in China—its achievements and shortcomings—and to further our understanding of the complex relationship between property rights, food security, and farmers' welfare. Second, she is interested in examining how state capitalism—in which the state exerts extensive control over the economy through either direct ownership of state enterprises or various subsidies to private companies—has been practiced, with a focus on high-speed rail development in China.
Dr. Zeng teaches courses on international political economy (undergraduate and graduate levels), the international relations of East Asia, political economy of China, and comparative studies of privatization. She also serves as elected board member and treasurer of the Association of Chinese Political Studies.
Areas of Expertise
Political Economy of Development, Chinese Politics, Politics of Economic Reform
Degrees
BA, Fuzhou University, Foreign Language, 1996
MA, University of Mississippi, Political Science, 2001
PhD, Johns Hopkins University, Political Science, 2007