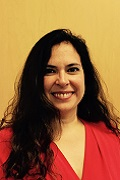 Naisy Sarduy
Associate Teaching Professor
Politics and International Relations
---
Office: SIPA 402
Phone: 305-348-7927
Email: nsarduy@fiu.edu
Bio
Dr. Naisy Sarduy specializes on the international relations of the Middle East, with a particular focus on Iran, Islamic political movements and their relations with the West. She received her Doctor of Philosophy degree in Oriental Studies from the University of Oxford in England. She holds a Master's degree in International Studies from the University of Miami, where she wrote a thesis on "The West in Modern Islamic Political Thought", and a Bachelors' degree in French and International Relations from Florida International University.
She is currently working on a manuscript based on her research at Oxford, titled, Iran's America: Iran's Post-Revolutionary Narrative of the United States. The manuscript explores the narrative of the United States in the public discourse of the Islamic Republic of Iran, from the triumph of the revolution through the presidency of Hassan Rouhani. It examines the official pronouncements of Iranian leaders and ruling elite in their speeches, writings and interviews, organizes this narrative into key and central pillars and connects this discussion to the concrete policy issues that have engaged the two countries for over three decades.
Dr. Sarduy was assistant editor for American Muslim Quarterly, and has published on the Muslim community of the United States. She has presented her research in national conferences including the Middle East Studies Association (MESA) and the International Studies Association (ISA). Dr. Sarduy studied Persian at the University of Utah in Salt Lake City, at the University of Oxford and in Tehran.
She teaches Introduction to International Relations, International Relations of the Middle East, Comparative Politics of the Middle East, Contemporary Problems in International Relations, and International Relations of Iran and the Persian Gulf.
Areas of Expertise
Comparative Politics, International Relations, Middle East and Development Studies
Degrees
B.A., Florida International University, 1990
M.A., University of Miami, 1996

PhD., University of Oxford, 2013