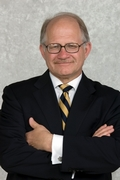 Mark B. Rosenberg
Professor
Politics and International Relations
---
Office: SIPA 410
Phone: 305-348-2226
Email: rosenber@fiu.edu
Bio
Mark B. Rosenberg was president of Florida International University. A public institution of higher education, FIU is the face of the country's future in higher education demographics: it is a majority-minority institution that leads the country in the production of minority degrees in the sciences and engineering.

Dr. Rosenberg has served as the fifth president of FIU since August 2009 to January 2022. A political scientist specializing in Latin America, Dr. Rosenberg is the first FIU faculty member to ascend to the university's presidency.

Under his leadership as president, FIU has increased enrollment to almost 54,000 students, improved graduation rates by nearly 10%, and hired over 500 new faculty. As President, Dr. Rosenberg has provided leadership to grow the institution's budget, improve student graduation and retention rates, expand internships for enrolled students, and coordinate FIU's emergence as a leading producer of graduates in priority national and state areas focused on science, technology, engineering and math (STEM). The university has been named as a Carnegie Engaged institution and has developed path-breaking partnerships with the Miami Dade County Public Schools, JP Morgan Chase, Florida Power & Light, and Royal Caribbean Cruises Ltd. Research expenditures have grown by nearly 30% to nearly $160 million, and over sixty new student advisers and counselors have been hired for a restructured and expanded student graduation initiative.

From 2005 to 2008, Dr. Rosenberg served as the Founding Chancellor for the Board of Governors of the State University System of Florida, which includes all of Florida's public universities – over 325,000 students and an all-accounts budget of nearly $9 billion. As chancellor, Dr. Rosenberg led the system's strategic development and financial planning and policy initiatives, working closely with Gov. Jeb Bush and Gov. Charlie Crist and the state legislature to secure support for SUS priorities. During this era, major new strides were made in research support for the system, over $1 billion was provided for new facility construction, and a new SUS strategic plan was developed and approved.

Prior to becoming chancellor, Dr. Rosenberg was integrally involved in the expansion and development of FIU into a major public research university. As Provost and Executive Vice President for Academic Affairs from 1998 to 2005, Dr. Rosenberg spearheaded the establishment of a law school in 2002 and a medical school in 2006. Under his leadership, FIU increased enrollment, implemented major campus construction projects, and was invited to join the select national honor society Phi Beta Kappa. Dr. Rosenberg was also instrumental in moving FIU into the top tier of Carnegie Foundation research universities.

Dr. Rosenberg's academic career began at FIU in 1976 as an assistant professor of political science. In 1979, he founded the FIU Latin American and Caribbean Center, which today is one of the nation's premier federally-supported research and teaching centers focusing on the region. Dr. Rosenberg subsequently served as the Founding Dean of the College of Urban and Public Affairs and Vice Provost for International Studies. He has also been a Visiting Distinguished Research Professor at The Peabody College of Vanderbilt University, and a Visiting Professor at the Instituto Tecnologico de Monterrey (ITESM) in Mexico.

Dr. Rosenberg earned a B.A. in 1971 from Miami University of Ohio and a Ph.D. in Political Science with a graduate certificate in Latin American and Caribbean Studies from the University of Pittsburgh in 1976. He has written or co-edited seven books and numerous scholarly articles in leading journals. His latest book, The United States and Central America: Geopolitical Realities and Regional Fragility (2007), is a Harvard University project co-authored with Luis Guillermo Solis of Costa Rica. Governmental and media organizations have frequently sought Dr. Rosenberg's expertise on Latin America. He is a member of the Council on Foreign Relations, has testified before Congress numerous times, and has served as a consultant to the Department of State and the U.S. Agency for International Development.

Firmly committed to national and community service, Dr. Rosenberg is an appointee to the National Academy of Science's (NAS) study commission focusing on Barriers and Opportunities in Completing Two- and Four-Year STEM Degrees; is Co-Chair of the Hispanic Association of Colleges and Universities (HACU) STEM Task Force; sits on the board for National Action Council for Minorities in Engineering (NACME), and serves on the Board of Directors of the Coalition of Urban Serving Universities (USU) where he is Co-Chair of the Student Performance Strand.

Within the community, Dr. Rosenberg is the Chair-Elect of the Greater Miami Chamber of Commerce (GMCC), one of Florida's leading business associations. He also chairs the Academic Leaders Council (ALC) for the Beacon Council, Miami-Dade County's official economic development organization. Dr. Rosenberg has been active in a variety of other civic organizations, including the Jewish Federation of Greater Miami and United Way.

Dr. Rosenberg is a first-generation college graduate whose two children, Ben and Ginelle, are graduates of FIU. He and his wife of over 40 years, Rosalie, are members of Temple Menorah in Miami Beach.
Areas of Expertise
Politics of Development, Latin American & Caribbean Politics, Inter-American Relations, Comparative Political Theory, Higher Education Policy & Management
Degrees
BA, Miami University (Ohio), Political Science,1971
MA, University of Pittsburgh, Political Science,1972
Ph.D., University of Pittsburgh, Political Science,1976