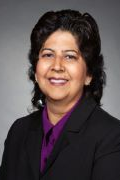 Anjana Mishra
Visiting Assistant Teaching Professor
Politics and International Relations
---
Office: MMC, SIPA 424
Phone: 305-348-6378
Email: mishraa@fiu.edu
Bio
Anjana Mishra received her Ph.D. from the University of Lucknow, India. Her research interests include Asian Indian diaspora and development studies. At FIU, the courses she leads include, Introduction to International Relations, International Relations of South Asia, Politics of Development and Underdevelopment, Politics of Western Europe, International Organizations, and Contemporary International Problems. Many of these courses are Virtual Study Abroad and Quality Matters certified. She is an active participant in FIU Collaborative Online Learning (COIL) and is collaborating with two professors in India, teaching courses on South Asia and Contemporary Issues.
She is currently working on editing the book, Politics, and Culture in the Developing World and is the Faculty Advisor for Sigma Iota Rho Beta Rho Honor Society. She is the recipient of the Faculty Award for Excellence in Adj. Teaching (2018) and Faculty Choice Award, FIU Online (2017). 
Dr. Mishra is active in the community and is a member of Miami Dade County Asian Advisory Board representing District 8. As Executive Board Member, Secretary & Grant Writer, for Miami Association of Indian Americans for Culture and Arts (www.MAIACA.org) she has won several grants. She has provided opinion as Subject Matter Expert in court cases involving South Asians in Miami Dade County and is the winner of the Miami Foundation's Public Space Challenge 2019.
Areas of Expertise
Developmental Studies, Asian Indian Diaspora and Indo-US Relations
Degrees
MA, University of Lucknow (India), 1986
B.Ed., University of Lucknow (India), 1987
PhD, University of Lucknow (India), 1991