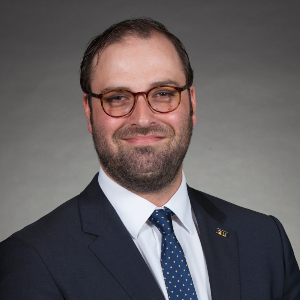 Lukas K. Danner, Ph.D.
Adjunct Professor
Politics and International Relations
---
Office: MMC, SIPA 213
Phone: 305-348-2226
Email: ldanner@fiu.edu
Bio
Dr. Lukas K. Danner is Research Associate at the Miami-Florida Jean Monnet Center of Excellence, FIU, and Fulbright-NSF Arctic Research Scholar at the Centre for Arctic Studies, Institute of International Affairs, University of Iceland. He is also Honorary Research Fellow at the East Asia Security Centre, Bond University, Australia, and Member of the North American and Arctic Defence and Security Network (NAADSN). Dr. Danner teaches a range of courses at the Department of Politics and International Relations, FIU, including Politics of Western Europe, International Relations of Scandinavia and the Arctic, International Relations of East Asia, and Conflict, Security, and Peace in IR, among others. 
He holds a Ph.D. in International Relations and an M.A. in International Studies from FIU, as well as an M.A. in Sinology, American Cultural History, and International Law from the University of Munich, Germany. Dr. Danner is the author of
China's Grand Strategy
 (2018) and co-editor of
New Challenges and Opportunities in European-Asian Relations
(2021; with Bibek Chand). His research interests include security studies, environmental politics, small states, foreign policy, and geopolitics of Europe, Asia, and the Arctic. His research can be found on http://danner.is.