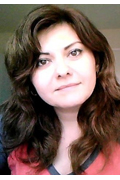 Lilya Arakelyan
Adjunct Faculty
Politics and International Relations
---
Office: MMC, SIPA 213
Phone: 305-348-2226
Email: larakely@fiu.edu
Bio
Dr. Lilia Arakelyan
 has worked on numerous academic and policy-oriented projects on Russia and the independent states of Eastern Europe, Central Asia, and the South Caucasus. Her research interests include Russian foreign policy in the post-Soviet space, different aspects of nationalism, ethno-national conflicts in the South Caucasus, and international security more broadly. Dr. Arakelyan was an international fellow at the Caucasus Resource Research Center (Yerevan, Armenia), where she conducted independent research on the upsurge of violence and mediation in the Nagorno Karabakh conflict. Dr. Arakelyan currently teaches International Relations courses at Florida International University, and works as a consultant for the United Nations Development Programme. She is the author of Russian Foreign Policy in Eurasia: National Interests and Regional Integration (Routledge, 2017). https: 
www.routledge.comauthors
i16640-lilia-arakelyan. 
Degrees
Dr. Arakelyan earned her MA at the University of Arizona and her PhD at the University of Miami.