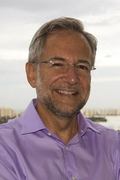 Santiago Juan-Navarro
Professor of Hispanic Literature and Film
Modern Languages
---
Office: DM 487A
Email: navarros@fiu.edu
Selected Publications
Nuevas aproximaciones al cine hispánico: Migraciones temporales, textuales y etnicas en el bicentenario de las independencias iberoamericanas (1810-2010). Co-edited with Joan Torres-Pou. Barcelona: Promociones y Publicaciones Universitarias, 2011.
La ciudad en la literatura y el cine: Aspectos de la representación de la ciudad en la producción literaria y cinematográfica en español. Co-edited with Joan Torres-Pou. Barcelona: Promociones y Publicaciones Universitarias, 2009.
Juana of Castile: History and Myth of the Mad Queen. Co-edited with Maria A. Gomez and Phyllis Zatlin. Lewisburg and London: Bucknell University Press, 2008.
Memoria histórica, Genero e Interdisciplinariedad: Los Estudios Culturales Hispánicos en el siglo XXI. Co-edited with Joan Torres-Pou. Madrid: Biblioteca Nueva, 2008.
Alejandro Amenábar. Co-authored with Maria A. Gomez. Paris: Cineastes, 2003.
Postmodernismo y metaficción historiográfica: una perspectiva interamericana. Valencia: Departamento de Publicaciones de la Universidad de Valencia, 2002.
A Twice-Told Tale: Reinventing the Encounter in Iberian - Iberian American Literature and Film. Co-edited with Theodore Young. Newark and London: University of Delaware Press, 2001.
Archival Reflections: Postmodern Fiction of the Americas (Self-Reflexivity, Historical Revisionism, Utopia). Lewisburg and London: Bucknell University Press, 2000.
Quinto Centenário. Special issue of Letras: Revista do Curso de Mestrado em Letras da UFSM. Co-edited with Theodore Young. (Brazil) 18-19 (1999):1-337.
Articles
"Locura, monstruosidad y escritura: hacia un análisis genealógico de El obsceno pájaro de la noche." Acta Poetica 37.2 (2016): 74-86.
"En el vórtice de la enajenación": Nicolás Guillen Landrián y la implosión del Documental Cientifico-Popular cubano de los 60." Studies in Latin American Popular Culture 33 (2015): 2-26.
"Narco-geografias imaginarias en la era de la globalización: el caso de la telenovela La Reina del Sur (2011)." Hispanic Journal 35.2 (2014): 139-154.
"Cine y globalización en America Latina: el papel de las coproducciones." Pasavento: Revista de Estudios Hispánicos 2.2 (2014): 297-318.
"Las huellas el existencialismo en el cine cubano, 1956-1968." Hispanic Journal 35.1 (2014): 111-125.
"Reinventing History and Myth in Carlos Fuentes' Terra Nostra and Ishmael Reed's Mumbo Jumbo: Strategies for Teaching Postmodern Fiction in the Americas." Studivm 19 (2013): 217-230.
"De Los primeros treinta a Páginas del diario de Jose Marti: la mitologización de la historia en el cine de Jose Massip." Frame 9 (2013): 19-36.
"Historia, mito y propaganda: Fidel Castro en el cine de Santiago álvarez." Revista Hispano Cubana 43 (2012): 119-138.
"El archivo especular: autorreferencialidad y revisionismo histórico en la última novela de Alejo Carpentier." Boletin Hispánico Helvetico 20 (2012): 3-20.
"Un pequeño Hollywood proletario: El cine anarcosindicalista durante la Revolución Española (Barcelona, 1936-1937)." Bulletin of Spanish Studies 88.4 (2011): 523-540.
"The Anarchist City of America: Libertarian Utopias in the New World." Atenea 29.1 (2009): 91-112.
"The Absolution of His(S)tory: The Mythologization of the Past in Cuban Cinema." Leidschrift | Historisch Tijdschrift (University of Leiden) 24.3 (2009): 33-50.
"La arquitectura de la ansiedad: Presencia de Piranesi en la nueva narrativa hispanoamericana." Hispanic Journal 30 (2009): 247-261.
"¿ "100 años de lucha por la liberación?": Las Guerras de Independencia en el cine de ficción del ICAIC." Archivos de la Filmoteca 59 (2008): 142-161.
"De los origenes del Estado español al Nuevo Estado: La construcción de la ideologia franquista en Alba de America, de Juan de Orduña." Anales de la Literatura Española Contemporánea 33.1 (2008): 79-104.
Book chapters
"El arpa y la sombra o la lipsonoteca postmodernista de Alejo Carpentier." Asaltos a la historia: reimaginando la novela histórica en America Latina. Ed. Brian L. Price. 2013. [In press].
Juan-Navarro, Santiago. "Trapped in the House of Mirrors: The Others as a Postmodern Gothic Thriller." Contemporary Spanish Thriller & Horror Films. Ed. Jorge Mari. 2013. [In press].
"Más allá de la nación cubana: prácticas metaxtuales en el cine "callejero" de Estaban Insausti." AutoRepresentacioneS. Ed. Marta álvarez. Dijon: Editions Orbis Tertius, 2013.
"Hiperrealidad y simulacro: La crisis de la modernidad en 'El muñeco'." Nuevas aproximaciones a la obra de Virgilio Piñera. Ed. Humberto López Cruz. Madrid: Editorial Hispano Cubana, 2012. 149-178.
"Internacionalismo y revolución: Las intervenciones del Instituto Cubano de Arte e Industria Cinematográficos (ICAIC) en la historia de las independencias." 1808-1810. Cine y guerras de independencia. Ed. Jorge Nieto Ferrando. Madrid: Abada Editores, 2012. 185-201.
"Del imperialismo politico al neocolonialismo cultural: El mito de la Madre Patria y sus proyecciones mediáticas." Arte y Cultura en la Globalización. Ed. Carlos Borro. Buenos Aires: Editorial La Bohemia, 2008.
Juan-Navarro, Santiago. "La primera carga al machete, de Manuel Octavio Gómez: Cine, mito y revolución." In Cinema et Revolution cubaine. Eds. Julie Amiot and Nancy Berthier. Lyon: Universite Lyon 2 - GRIMH, 2006. 105-113.
"Brecht en La Habana: autorrefencialidad, desfamiliarización y cine dentro del cine en la obra de Juan Carlos Tabio." Le cinema cubain: identite et regards de l'interieur. Ed. Sandra Hernández. Nantes, France: Centre de Recherche sur les Identites Nationales et l´Interculturalite - Universite de Nantes, 2006. 125-135.
Areas of Expertise
Contemporary Spanish American Fiction
Film Studies
Historical Fiction and Film
Postmodernism and Globalization
Literature, Film, and Propaganda
Transatlantic Studies
Degrees
Ph.D. Columbia University, 1995
M.Phil. Columbia University, 1991
B.A. Universidad de Valencia, 1987