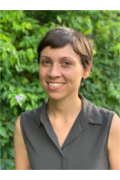 Catherine Mas
Assistant Professor
History
---
Office: SIPA II 333
Phone: 305-348-6212
Email: cmas@fiu.edu
Bio
Catherine Mas is a historian of science, medicine, and American society. Her research and teaching focus on transnational United States history and the intersections of health, race, and religion.
Her book, Culture in the Clinic: Miami and the Making of Modern Medicine (UNC Press, 2022), examines the historical intersections of immigration, medical anthropology, and structures of modern healthcare. It centers on Miami, Florida in the postwar period—an American city in the Caribbean basin, where migration from Latin America and the Caribbean altered the city's social order and posed a significant challenge to the healthcare system. The book moves from Cold War experiments in community medicine to neoliberal-era HMOs and global health to trace ongoing efforts to care for and manage the diverse communities and health cultures that took root in Miami, generating knowledge and innovations that traveled far beyond the city.
Mas has also written articles on the history of race and transcultural psychiatry, as well as on the uses of women's clothing as a social and bodily technology. She is currently working on a study of the transnational history of medical primatology, which focuses on the gendered and religious significance of relations between humans and nonhumans in mid-twentieth-century Cuba and the United States.