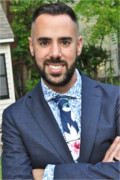 Julio Capo Jr.
Associate Professor
History
---
Office: SIPA II 312
Phone: 305-348-1535
Email: jcapo@fiu.edu
Bio
Professor Capó is a transnational historian whose research and teaching interests include modern U.S. history, especially the United States's relationship to the Caribbean and Latin America. He addresses how gender and sexuality have historically intersected with constructions of ethnicity, race, class, nation, age, and ability. His first book, Welcome to Fairyland: Queer Miami before 1940 (UNC Press, 2017), highlights how transnational forces—including (im)migration, trade, and tourism—to and from the Caribbean shaped Miami's queer past. The book has received six awards and honors, including the Charles S. Sydnor Award from the Southern Historical Association for the best book written on Southern history. His work has appeared in the Journal of American History, Radical History Review, Diplomatic History, Journal of Urban History, Journal of American Ethnic History, Modern American History, GLQ, H-Net, American Studies, and several volumes.
Capó's research extends to his commitment to public history and civic engagement. He curated "Queer Miami: A History of LGBTQ Communities" for History Miami Museum (open from March-September 2019) and participated in a National Park Service initiative to promote and identify historic LGBTQ sites and contributed a piece on Miami's queer past for its theme study. Prior to entering graduate school, he worked as a broadcast news writer and producer, and his work has appeared in several outlets such as The Washington Post, Time, The Miami Herald, and El Nuveo Día (Puerto Rico).
Capó is the recipient of several awards including the Audre Lorde Prize from the Committee on Lesbian, Gay, Bisexual & Transgender History and the Carlton C. Qualey Award from the Immigration and Ethnic History Society. He currently serves as the co-chair of the Committee on Lesbian, Gay, Bisexual & Transgender History and on the Editorial Board for the Journal of American History.