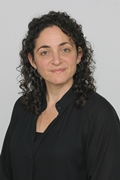 Jessica L. Adler
Associate Professor
History
---
Office: SIPA II 309
Phone: 305-348-7968
Email: jadler@fiu.edu
Bio
Jessica L. Adler researches and teaches about the history of health care, war and society, and incarceration in the United States. Her first book,  Burdens of War: Creating the United States Veterans Health System (Johns Hopkins University Press, 2017), is about the World War I-era origins of the nation's largest integrated health care system. She continues to focus on governmental involvement in health care in her current projects, which examine the history of medical services in U.S. prisons and late twentieth century transformations in the veterans' health program.
Adler has contributed articles to peer-reviewed journals, including the Bulletin of the History of Medicine, the American Journal of Public Health, and the Journal of the History of Medicine and Allied Sciences, and book chapters to edited volumes on military and medical history. She has also written for The Washington Post, The Hill, The Miami Herald, and USA Today, and led various public history and public humanities projects. 
Adler's work has been supported by the National Institutes of Health, the National Endowment for the Humanities, the National Library of Medicine, Friends of the Princeton University Library, the Rockefeller Archive Center, the Florida Humanities Council, the FIU Office of the Provost Humanities Research Initiative, the Doris G. Quinn Foundation, the Institute for Political History, and the U.S. Army Military History Institute. She received a FIU Top Scholar Award in 2019 and a Columbia University Bancroft Dissertation Award in 2013.