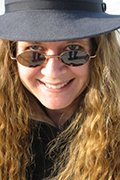 Katherine Lineberger
Lecturer & Undergraduate Program Director
Global and Sociocultural Studies
---
Office: SIPA 314
Phone: 305-348-0352
Email: klineber@fiu.edu
Bio
Katherine Lineberger, Ph.D., Sociology, has been teaching as an instructor in the Department of Global and Sociocultural Studies at Florida International University since 2007. Dr. Lineberger earned her Master of Social Science, Graduate Certificate in Women's Studies, and Master of Arts in Sociology from the University of Colorado at Denver and upon completion of the two degrees continued her education at the University of Colorado at Boulder where she earned her Doctorate of Sociology. She also has a Bachelor of Arts in Sociology, History and Women's Studies.
Dr. Lineberger has over 20 years of experience in program and population analysis, including needs assessment, program planning and development, evaluation, community identification, and social epidemiology. She has conducted needs assessments, evaluations, and research projects regarding issues related to domestic violence, child protective agency policy, women and substance abuse, Ryan White funding, and risk in street-level sex work, among others. She has and continues to work closely with the Federal Substance Abuse and Mental Health Services Administration, the National Institutes on Drug Abuse, the National Institutes of Health, the Colorado State Legislature, the Colorado Governor's AIDS Council, the Denver Mayor's HIV Planning Council, the Colorado Department of Public Health and Environment, Community Corrections agencies in the State of Colorado, as well as boards related to several non-profit organizations in the Denver Metropolitan Area. She conducted several projects for Ryan White Programs in Denver, Colorado as a Research Associate. Within this role she coordinated the Part A and Part B Needs Assessment, developed the 5-Year Comprehensive Plan and conducted an Evaluation of Ryan White Funding in the Denver Metropolitan Area. She has also coordinated numerous research activities including focus group facilitation, qualitative and quantitative interviews, participant and non-participant ethnographic interviewing and research, epidemiological analysis, and community identification projects, among others.
Dr. Lineberger has also been involved in academia for over 17 years. Dr. Lineberger is currently a Digital Instructor at Florida International University's (FIU) School of Arts and Sciences where she teaches Sociology. Prior to her position at FIU, she served as an adjunct professor at Barry University, University of Colorado at Boulder & Denver, Metropolitan State College of Denver, Platt College, Front Range Community College, Red Rocks Community College, and Community College of Aurora. She has taught courses including but not limited to Introduction to Sociology, Sociological Theory, Marriage and the Family, the Sociology of Violence, Medical Sociology, Death & Dying, the Sociology of Work, Social Problems, Women & Crime, Sex & Gender, Societies in the World, and Race & Ethnicity. In 2014, she won the FIU Adjunct Excellence in Teaching Award.
Most recently, Dr. Lineberger has increasing involvement in issues related to online higher education at FIU and in the State of Florida. She serves on the Executive Board of United Faculty of Florida at FIU, representing the experiences and issues of digital instructors. She is currently developing an online degree program in Sociology/Anthropology in the Department of Global and Sociocultural Studies at FIU. Her research and conference presentations relate to ethnographic experiences in online teaching, evaluation of online teaching, and best practices in online education.
Dr. Lineberger has also presented numerous national and international papers at a variety of professional conferences including the American Sociological Association conference, Pacific Sociological Association conference, the Conflict Resolution for Social Work & the Helping Professions conference, and the World AIDS conference. In addition, Dr. Lineberger serves as Board Member of the Broward County Coalition to End Homelessness and a member of the American Sociological Association, Alpha Kappa Delta International Sociology Honor Society, and Sociologists for Women in Society.
Since relocating to Florida and in addition to teaching at FIU, Dr. Lineberger has been involved in Ryan White planning in Broward County. She also has worked as an evaluation specialist for Broward County's Homeless Prevention and Rapid Re-Housing Program, a recent stimulus-related program addressing the current housing crisis. She worked closely with representatives from the Department of Housing and Urban Development, state and local government in Miami-Dade and Broward counties, and state and local Departments of Health.
Degrees
Ph.D University of Colorado at Boulder, 2009