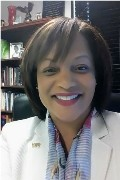 Carleen Vincent-Robinson
Senior Instructor and Associate Chair
Criminology and Criminal Justice
---
Office: PCA-252A
Phone: 305.348.3882
Email: vincentc@fiu.edu
Bio
Dr. Vincent-Robinson is a Senior Instructor and Associate Chair in the Department of Criminology and Criminal Justice, Steven J. Green School of International and Public Affairs. She also serves as the Field Experience Director. She earned her EdD in Higher Education (2016) and her Master of Science in Criminal Justice (2004) from Florida International University. She also holds a Master of Arts in Sociology (2010) from the University of Miami with dual concentrations in criminology and race/ethnicity, a Juris Doctorate (2001) from Louisiana State University, and a Bachelor of Arts in English Professional Writing (1998) from Baylor University.
While she matriculated through the graduate program at FIU, Dr. Vincent-Robinson participated in a $250,000 research project assessing Florida's preparedness for terrorist attacks and other catastrophic events involving mass casualties. She co-authored Terrorism Preparedness in Florida, Improved Since 9/11, But Far From Ready (Collier and Vincent, 2005) where she gauged levels of preparedness for critical infrastructure.
Prior to her appointment at FIU, Dr. Vincent-Robinson held a variety of positions including, but not limited to, a judicial clerk for the appellate court, an adjunct professor at Barry University and Broward College, and secondary education teacher for Miami-Dade County Public Schools.
Dr. Vincent-Robinson is actively involved at FIU and in the community. She recently completed FIU's Leadership Education Advancement Program and the President's Leadership Program. She is also a member of President Rosenberg's Think Tank, Faculty Senate, and Academic Integrity Committee and serves as the department's faculty liaison for dual enrollment and the President of the Board of Directors for Crime Stoppers of Miami-Dade and the Keys.
Dr. Vincent-Robinson's current research interests include academic dishonesty as a form of deviance among students, domestic violence, mass incarceration, and race/ethnic relations. She has presented her work at academic conferences and regularly hosts workshops and staff training for domestic violence both within and outside of the prison setting.
Website: https://www.researchgate.net/profile/Lisa_Stolzenberg