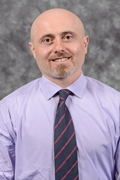 Besiki Luka Kutateladze
Associate Professor
Criminology and Criminal Justice
---
Office: MARC-270/PCA-364A
Phone: 305.348.4892
Email: bkutatel@fiu.edu
Bio
Dr. Besiki Luka Kutateladze is an associate professor in the Department of Criminology and Criminal Justice. He is also the associate director for prosecution and courts in the Center for the Administration of Justice.
Dr. Kutateladze specializes in performance indicators and prosecutorial discretion. He is currently managing three large projects funded by the National Institute of Justice, the MacArthur Foundation, and the Koch Foundation. His research has been published in journals such as Criminology, Justice Quarterly, Crime & Delinquency, Cardozo Law Review, Social Indicators Research, and Law & Human Behavior. He was named a 2019 FIU Top Scholar for Research by the Provost.
Prior to his appointment at FIU, Dr. Kutateladze was the founding research director at the Institute for State and Local Governance (ISLG) of the City University of New York. Before that, Dr. Kutateladze served as the research director for the Prosecution and Racial Justice Program of the Vera Institute of Justice. From 2008 to 2013, he played a crucial role in the development of the United Nations Rule of Law Indicators and their field testing in Haiti and Liberia. Before joining the Vera Institute, Dr. Kutateladze taught courses on comparative criminal justice and statistics at John Jay College of Criminal Justice and lectured and conducted research on criminal procedure at Tbilisi State University.
In 2002, Dr. Kutateladze was the U.S. State Department Fellow from the Republic of Georgia. He holds a Ph.D. in criminal justice from the CUNY Graduate Center and a law degree from the Republic of Georgia.
Selected Publications
Kutateladze, B. L. (2021). Acting "straight": Socio-behavioral consequences of anti-queer hate crime victimization. Justice Quarterly. OnlineFirst.
Kutateladze, B. L., & Leimberg, A. (2019). The influence of type of defense counsel on prosecutorial and judicial decision making in domestic violence cases. Crime & Delinquency, 65(12), 1623-1647.
Kutateladze, B. L. (2018). Tracing charge trajectories: A study of the influence of race in charge changes at case screening, arraignment, and disposition. Criminology, 56(1), 123-153.
Areas of Expertise
Performance Indicators | Prosecution | Racial Justice | Equality and Rule of Law
Degrees
Ph.D., Graduate Center of the City University of New York, Criminal Justice, 2008
M.A., John Jay College of Criminal Justice, Criminal Justice, 2005
J.D., Kutaisi State University, Republic of Georgia, 1999