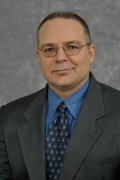 Stewart D'Alessio
Professor
Criminology and Criminal Justice
---
Office: PCA-263B
Phone: 305.348.6277
Email: dalessi@fiu.edu
Bio
Stewart J. D'Alessio is a Professor in the Department of Criminology and Criminal Justice, Steven J. Green School of International and Public Affairs. He received his BA in History from Stetson University and his MS and PhD in Criminology from Florida State University. Professor D'Alessio has an extensive publication record and practical experience in program evaluation. Before entering academia, he worked on a federally funded grant for the Florida Department of Corrections evaluating innovative programs established in local jails throughout the state. He also worked as an evaluator for a federally funded juvenile treatment program established at the Dozier School for Boys in Marianna, Florida. Additionally, Professor D'Alessio served as a consultant to several national-level studies for the Justice Research and Statistics Association in Washington, D.C., including an assessment of the Federal Anti-Drug Abuse Acts of 1986 and 1988 funded by the Bureau of Justice Assistance and a nationwide survey of drug task force commanders. Professor D'Alessio also served previously as a Captain in the Military Police, and he participated in "Operation Just Cause" and "Operation Desert Storm." His unit received the "Valorous Unit Award" for extraordinary heroism while engaged in military operations during "Operation Just Cause" in Panama.
Selected Publications
Cruz, E., D'Alessio, S. J., & Stolzenberg, L. (2020, OnlineFirst). The effect of maximum daily temperature on outdoor violence. Crime & Delinquency.
Torres, C. E., D'Alessio, S. J., & Stolzenberg, L. (2020). The Effect of Social, Verbal, Physical, and Cyberbullying Victimization on Academic Performance. Victims & Offenders, 15, 1-21.
Cruz, E., D'Alessio, S. J., & Stolzenberg, L. (2020). The Labor Market and Terrorism. Studies in Conflict & Terrorism, 43, 224-238.
Areas of Expertise
Terrorism | Race and Crime | Criminal Sentencing | Criminal Justice Policy
Degrees
Ph.D., Florida State University, Criminology, 1993
M.S., Florida State University, Criminology, 1987
B.A., Stetson University, History, 1984