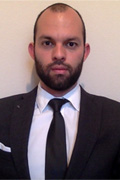 Camilo Olaya
Doctoral Candidate and Coordinator of Executive Education
Jack D. Gordon Institute for Public Policy
---
Email: colayago@fiu.edu
Bio
Camilo Olaya Gonzalez is an Assistant in Executive Education at the Jack D. Gordon Institute for Public Policy (JGI) at Florida International University (FIU). Camilo is a Ph.D. student in International Relations in the Steven J. Green School of International and Public Affairs at FIU.
Prior to joining the Gordon Institute, he worked as Teaching Assistant in the School of International and Public Affairs at FIU (2017-2019), Consultant in the Border Plan for Prosperity of the Colombian Ministry of Foreign Affairs (2014-2016), and interned in Prospera (2018) a nonprofit organization that supports Hispanic entrepreneurs in Florida.
Camilo received his Master's degree in Latin American and Caribbean Studies from FIU and his Bachelor´s degree in Political Science and Government from Universidad del Rosario (Bogota, Colombia). Camilo's interests include international political economy, public policy, trade, and foreign direct investment, artificial intelligence, and cybersecurity.