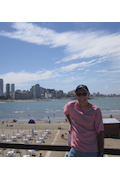 Joan Torres-Pou
Portuguese Instructor. Portuguese Program Director. Director of the Study Abroad Program in Belo Horizonte-Brazil. Director of the Celpe-Bras Exam at FIU
Modern Languages
---
Office: DM 485B
Phone: (305) 348-2049
Email: pouj@fiu.edu
Selected Publications
Books
Asia en la España del siglo XIX. Literatos, viajeros, intelectuales y diplomáticos ante Oriente. Rodopi: Amsterdam, New York, 2013.
Nuevas aproximaciones al cine hispánico. Migraciones temporales, textuales y etnicas en el bicentenario de las independencias iberoamericanas (1810-2010). Barcelona: PPU, 2011. Co-edited with Santiago Juan-Navarro.
Orientalismos: Oriente y Occidente en la literatura y las artes de España e Hispanoamerica. Barcelona: PPU, 2010.
Ciudad y literatura: Aspectos de la representación de la ciudad en la producción literaria y cinematográfica en español. Barcelona: PPU, 2009. Co-edited with Santiago Juan-Navarro.
Memoria Histórica. Genero e Interdisciplinariedad, los estudios culturales en el siglo XXI. Madrid: Biblioteca Nueva, 2008. Co-edited with Santiago Juan-Navarro.
Aproximaciones a la narrativa femenina latinoamericana del diecinueve. Edwin Mellen Press: New York, London, 2002.
El e[x]terno femenino: Aspectos de la representación de la mujer en la literatura latinoamericana del siglo XIX. Promociones y Publicaciones Universitarias, S.A. Barcelona, España, 1998.
Articles
"La topologia del Viaje a Oriente en las crónicas de Enrique Gómez Carrillo." Chaski. 42-1 (2013): 144-153.
"Testimonios del fracaso: Las crónicas de la Guerra de Cochinchina." Neophilologus. 95-3(2011): 415-429.
"Ciudad e inmigración: El conventillo de Luis Pascarella, novela de la transformación de Buenos Aires." Symposium. 4 (2009): 265-280.
"A puerta cerrada: función de Madrid en Miau de Benito Perez Galdós." Romance Notes. 2 (2008):195-203.
"Esotheric Buddhism in the Works of Juan Valera." Japan Studies Review. 11 (2007): 119-127.
"Alabanza de America y defensa de España: La ambigüedad colonial de las Cartas mejicanas de Benito Mª de Moxó." Dieciocho. 30.2 (2007): 273-286.
"Aspectos del Orientalismo en la obra de Juan Valera." Hispania. 90.1 (2007):21-31.
"Una catalana ante el islam: Aurora Bertrana y la condición femenina de la mujer marroqui." Critica Hispánica. Vol. XXVIII. 2 (2006): 99-112.
"El viaje a Oriente en la literatura femenina española: Carmen de Burgos, Aurora Bertrana y Rosa Regàs." Neophilologus. 90 (2006):39-51.
"El tema civilización y barbarie en A fuego lento de Emilio Bobadilla." Letras. 39 (2006) 73-86.
Book chapters
"Lindaura Anzoátegui de Campero y la novela histórica tradicional" in La mujer en la literatura del mundo hispánico. Ed. Juana Arancibia, Yolanda Rosas y Edith Dimo. Westminster, California: Instituto Literario y Cultural Hispánico, 1999.
"Positivismo y feminismo en la obra de Mercedes Cabello de Carbonera." in Estudios en honor de Janet Perez: El sujeto femenino en escritoras hispánicas. Eds. Susana Cavallo, Luis A. Jimenez y Oralia Preble-Niemi. Potomac, Maryland: Scripta Humanistica, 1998.
"Consideraciones sobre el papel de la historia en la literatura judeo-latinoamericana: La gesta del marrano y la "nueva" novela histórica." in Homenaje a Marcos Aguinis. Ed. Juana Alcira Arancibia. San Jose, Costa Rica: Instituto Literario y Cultural Hispánico, 1998. 29-43.
Areas of Expertise
19th Century Spanish-American Literature
19th Century Spanish Peninsular Literature
Orientalism
Women's Literature
Colonial Spanish-American Literature
18th Century Spanish and Spanish-American Literature
Spanish and Catalan Language Courses
Degrees
Ph.D. Rutgers University, 1990
M.A. Rutgers University, 1987
Licenciatura (Catalan literature). Universitat Central de Barcelona. 1985.
Licenciatura (Spanish Language and Literature). Universitat Central de Barcelona. 1982.
Certificado de Aptitud Pedagógica. 1982