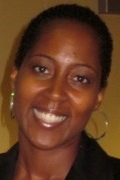 Chantalle F. Verna
Associate Professor
History
---
Office: AC1 - 388
Phone: 305-348-0180
Email: verna@fiu.edu
Bio
Professor Verna focuses on the culture of foreign relations, specifically concerning Haiti and the United States during the mid-twentieth century. Her first book book is entitled Haiti and the Uses of America: Post-U.S. Occupation Promises, 1934-54. The study emphasizes the importance of examining the post-occupation period: the decades that followed the U.S. military occupation of Haiti (1915-34) and considering how Haiti's public officials and privileged citizens rationalized nurturing ties with the United States at the very moment when the two nations began negotiating the reinstatement of Haitian sovereignty in 1930. The book is based on public and private records that Professor Verna collected in Haiti and the United States include the papers of Haitian presidents, ministers, and Americans working on development missions in Haiti; the writings of Haitian intellectuals; and interviews with elders from the study period. Professor Verna's findings reveal that during the mid-twentieth century, the ideas and actions of Haitians and Americans were heavily informed by internationalist ideals that stressed the shared history and interwoven future of all independent nations, particularly those in the Americas. Her book will demonstrate why Haitians had an affinity for Haiti-U.S. cooperation as a nation-building strategy and how that strategy facilitated the rise of international aid as a central component of U.S. foreign relations.
Selected Publications
Haiti and the Uses of America: Post-U.S. Occupation Promises, 1934-54, by Rutgers University Press.
Chantalle F. Verna, "Haiti, the Rockefeller Foundation, and UNESCO's Pilot Project in Fundamental Education, 1948-1953," Diplomatic History (2015); doi: 10.1093/dh/dhu075
Geographies of the Haitian Diaspora, Chapter 8, "Haitian Migration and Community-Building in Southeastern Michigan, 1966-1998, Chantalle F. Verna."
The Idea of Haiti, Interview with évelyne Trouillot for Chapter 11, "Twenty-First Century Haiti—A New Normal? A Conversation with Four Scholars of Haiti: Alex Dupuy, Robert Fatton, Jr., évelyne Trouillot, and Tatiana Wah."
PBS Documentary featuring Prof. Chantalle F. Verna: égalité for All Toussaint Louverture and the Haitian Revolution, January 25, 2009
Degrees
Ph.D., Michigan State University, 2005