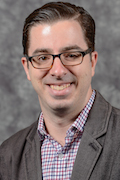 Michael Bustamante
Assistant Professor
History
---
Office: DM 385C
Phone: 305-348-2035
Email: mbustama@fiu.edu
Bio
Michael J. Bustamante is Assistant Professor of Latin American History, specializing in modern Cuba, Cuban-America, and the Caribbean.
Dr. Bustamante's current book project, "Cuban Counterpoints: Memory Struggles in Revolution and Exile," excavates public spectacle, rare press, private correspondence, and visual media to track clashes over Cuban collective and historical memory, on and off the island, in the wake of the 1959 Revolution. His scholarly writings have appeared in Journal of American Ethnic History, Latino Studies, Cuban Studies, and Perspectives on History, among other publications. With Jennifer Lambe (Brown University), he is co-editor of the volume "New Histories of the Cuban Revolution," currently under contract with Duke University Press.
Prior to pursuing graduate work, Bustamante served as Research Associate for Latin America Studies at the Council on Foreign Relations in Washington, D.C. He comments frequently on contemporary Cuban and Cuban-American affairs for publications like Foreign Affairs, The Washington Post, and NACLA Report on the Americas. He has appeared on media outlets like NPR, BBC, Al-Jazeera America, and ABC Radio Australia. Since 2013, he has served as a recurring study-leader for people-to-people trips to Cuba for the Smithsonian Institution. His writings have also appeared in Cuban publications such as Espacio Laical and Cuba Posible.
Dr. Bustamante's work has been supported by the Mrs. Giles Whiting Foundation, the MacMillan Center for International and Area Studies at Yale, Casa de las Américas in Havana, and the Andrew W. Mellon Foundation. He was a two-time research fellow at the Cuban Heritage Collection (University of Miami). His 2016 doctoral dissertation won Yale's Arthur and Mary Wright Prize (2017).
At FIU, he teaches courses on Latin American, Latina/o, Caribbean, and U.S. histories.
Selected Publications
"Cuba in the Crosshairs," NACLA Report on the Americas 49 (June 2017), 212-220.
"Los de Adentro, Los de Afuera: Transnational Cuba, '17-D,' and the Cuban- American Predicament," Latino Studies 14:1 (March 2016), 125-134.
"Anti-Communist Anti-Imperialism?: Agrupación Abdala and the Shifting Contours of Cuban Exile Politics, 1968-1986," Journal of American Ethnic History 35:1 (Fall 2015), 71-99.
Degrees
Ph.D., Yale University, 2016.