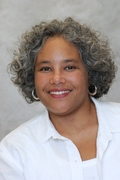 Hilary Jones
Associate Professor
History
---
Office: DM 300-B-2
Phone: 305-348-4791
Email: hijones@fiu.edu
Bio
Dr. Jones is Associate Professor of History and Core Faculty in the African and African Diaspora Studies Program. She is an historian of Africa who is interested in the African Diaspora. Jones' research interests concern West Africa, French empire, the Francophone Atlantic World, comparative race and slavery and Africa's urban and gender histories. In her research and teaching she pays close attention to the inter-connected histories of Africa, Europe, and the Americas.
Hilary Jones' book, The Métis of Senegal: Urban Life and Politics in French West Africa (Indiana University Press, 2013) examines Senegal's colonial capital through the lens of people of mixed racial ancestry. Based on fieldwork conducted in Senegal and France, this study examines mixed race identity and society in West Africa from the end of the transatlantic slave trade to the beginning of the colonial era. In relying on public and private archival sources, Jones places Senegal's Atlantic ports in conversation with scholarship on hybridity, Creolization, globalization, and the colonial encounter. Dr. Jones' research has appeared in the Journal of African History, The International Journal of African Historical Studies, and Slavery and Abolition as well as in several edited volumes.
Jones is actively engaged in disseminating and promoting scholarship about West Africa. She served as founding Associate Editor for the Journal of West African History (Michigan State University) from 2012-2017 and she served as an elected member of the board of directors of the West African Research Association from 2012-2018. Jones is currently developing a book-length manuscript on the long and inter-connected history of Senegambia and the French Caribbean. This project has earned support from Yale University's Gilder Lehrman Center for the Study of Slavery, Resistance, and Abolition; a Fulbright IIE/CIES Scholar Award and a National Endowment for the Humanities Senior Research Fellowship from the Council on American Overseas Research Centers.
Dr. Jones teaches AFH 2000: African Civilizations as well as upper-division undergraduate courses on Africa before 1800, African since 1800, Slavery and the Slave Trade in Africa, Postcolonial Africa, and Blacks in Paris: African Americans and Africans in the City of Light. She has taught the graduate seminar on historical methods and teaches reading and research seminars in African History with thematic focus on Africa and the Atlantic World, Women, Gender, and Sexuality in Africa, and African Responses to Colonialism.