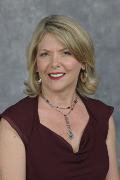 Jenna Gibbs
Associate Professor
History
---
Office: DM 389
Phone: 305-348-3191
Email: jgibbs@fiu.edu
Bio
Jenna Gibbs had a 20+ year career in theater and theater education before returning to higher education to complete her Ph.D. in history at UCLA and coming to FIU in 2009. Professor Gibbs' research interests are situated in the Atlantic world in the long revolutionary era (1750s-1850s) and she is broadly interested in the transnational interrelationship of culture and politics, as well as imperial/indigenous relations.
Her first book, Performing the Temple of Liberty: Slavery, Theater and Popular Culture in London and Philadelphia (1760s-1850s), was published by Johns Hopkins University Press in 2014. The book explores the world of theatrical and related print production on both sides of the Atlantic throughout the long revolutionary era. Drawing on a wide range of performed texts as well as ephemera—broadsides, ballads, and cartoons—the book examines the crucial role of transatlantic theater and popular culture in steering Anglo-American debates about slavery, concepts of liberty, natural rights, and the nature of blackness. The book traces the migration of theatrical texts, images, and performers back and forth between London and Philadelphia and situates them into critical axes of disputation: slave-trade abolition, emancipation in Philadelphia and the British West Indies, labor unrest in the 1840s, and pre-Civil War sectionalism in the United States. The study demonstrates that although these debates evolved in distinctive ways in each city, transatlantic exchange itself created a recognizably British Atlantic lexicon of slavery and race that co-mingled Enlightenment notions of natural rights, neo-classical motifs, and blackface burlesque. She has published a number of related articles and is also the co-editor, with Keith Baker, of Life Forms in the Thinking of the Long Eighteenth Century, which comes out with University of Toronto Press in June 2016 and comprises ten essays that offer provocative new interpretations of Enlightenment ideas of nature, science, society, and history.
Professor Gibbs is now working on a second book, tentatively titled Evangelicalism, Slavery, and Empire: The Global Latrobe Family (1750s-1850s), that centers on the tension between Protestant evangelicals' commitment to missionizing enslaved and indigenous peoples based on the fundamental premise of human spiritual equality, yet their complicity with slavery, the displacement of indigenous peoples' land and cultures, and imperial expansion and governance. She is analyzing these issues through three generations of one family: the Latrobes. The Latrobes were a family of French Huguenot descent who, after being expelled from France in the late 17th century, converted to the German evangelical Moravian sect. Members of the Latrobe family were directly involved in world-wide imperial ventures as Moravian missionaries, British and American government officials, and independent immigrants. In these varied roles, Latrobe family members travelled and migrated across the globe between the mid- 18th and mid-19th centuries to far-flung global locales that included the Ireland, the Danish and British West Indies, Suriname, North America, Labrador, Greenland, South India, Egypt, South Africa, Australia, and beyond. She is concentrating, however, on just four of these imperial contexts in which they operated: the British West Indies, North America, South Africa, and Australia. By utilizing the Latrobe family to humanize the macro-history of British, American, and German evangelicals' involvement with enslaved and indigenous peoples in disparate imperial contexts, Gibbs's study links the familial, local, and global. The project also attends to indigenous and enslaved peoples' knowledge and agency in responding to European missionizing efforts. The book will bring into comparative relief the connections between evangelical Protestantism, British and American imperial expansion, and policies toward indigenous and enslaved peoples in the British West Indies, North America, South Africa, and Australia.
Degrees
Ph.D., UCLA (early American; cultural; comparative Atlantic), 2008