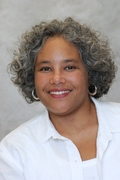 Hilary Jones
Associate Professor
History
---
Office: DM 300-B-2
Phone: 305-348-4791
Email: hijones@fiu.edu
Bio
Dr. Jones is Associate Professor of History, Core Faculty in the African and African Diaspora Studies Program, and an affiliate faculty member with the Center for Women's and Gender Studies. She is a historian of Africa who is interested in the African Diaspora. Jones' research interests concern the social history of Africa, French empire, the Francophone Atlantic, comparative race and slavery, women and gender, and Africa's urban histories. In her research and teaching she pays close attention to the inter-connected histories of Africa, Europe, and the Americas.
Hilary Jones' book, The Métis of Senegal: Urban Life and Politics in French West Africa (Indiana University Press, 2013) examines Senegal's colonial capital through the lens of people of mixed racial ancestry. Based on fieldwork conducted in Senegal and France, this study examines mixed race identity and society in West Africa from the end of the transatlantic slave trade to the beginning of French empire. In relying on public and private archival sources, Jones places Senegal's Atlantic ports in conversation with scholarship on hybridity, Creolization, globalization, and the colonial encounter. Dr. Jones' research has appeared in the Journal of African History and The International Journal of African Historical Studies as well as three edited volumes including Voices of Slavery and the Slave Trade in Africa Volume 1: The Sources (Cambridge University Press, 2013). In 2016, Slavery and Abolition published her article on fugitive slaves and Christian evangelism in late nineteenth century Senegal. Her current research projects investigate the making of a French Atlantic from an African perspective, and women and political power in Senegal.
In addition to these publications, Jones is actively engaged in disseminating and promoting scholarship about West Africa. She serves as Associate Editor for the Journal of West African History (Michigan State University) and is an elected member of the board of directors of the West African Research Association.
Degrees
Ph.D., Michigan State University, 2003