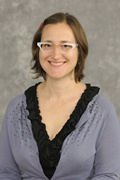 April Merleaux
Associate Professor
History
---
Office: DM 371-B
Phone: 305-348-2225
Email: amerleau@fiu.edu
Bio
Dr. Merleaux's research focuses on the 20th century United States in international context. She studies the intersections between cultural studies and political economy, and she is particularly interested in race, environment, and power.
Merleaux is the Project Director the Ecohumanities for Cities in Crisis, http://ecohumanities.fiu.edu, a public event series funded through the Humanities in the Public Square initiative of the National Endowment for the Humanities in 2016. Read her Op-Ed in the Miami Herald describing what the humanities have to offer our current deliberations on climate change and sea level rise http:/www.miamiherald.comopinion/op-ed/article69932312.html.
Dr. Merleaux teaches undergraduate courses on the late 19th and 20th centuries, including Modern American Civilization, U.S. food history, U.S. environmental history, and the 1920s & 1930s. She regularly teaches a Senior Seminar on The Global War on Drugs.
At the graduate level, Dr. Merleaux teaches and advises MA and PhD students specializing in the United States, Latin America, and the Caribbean with interests in cultural politics, the cultures of capitalism, race and empire, critical food studies, environmental studies, immigration and ethnicity, consumer cultures, rural history, and transnational and cultural research methods.
She has previously advised students in the Florida Teacher Quality Grant (FTQG) program, through which Miami-Dade County Public School teachers earned a M.A. in history. Dr. Merleaux is the Public History Advisor for M.A. students wishing to pursue the Public History option and undergraduate students who wish to earn internship credits.
Her book, Sugar and Civilization: American Empire and the Cultural Politics of Sweetness, was published by the University of North Carolina Press in 2015. The book tells the story of sugar from the Spanish American War through the New Deal of the 1930s, describing how workers and consumers in multiple locations came to eat so much sugar. The cultural logic connecting imperial, trade, and immigration policies was the same one that facilitated new habits of sugar consumption within the United States and its territories.
Merleaux is currently conducting research on the environmental history of the War on Drugs in the United States and Latin America from the 1920s through the 1980s. Exploring the agrarian origins of drug prohibition reveals new ways to think about the social and economic consequences of more than a century of public policy.
Degrees
Ph.D., Yale University, 2010