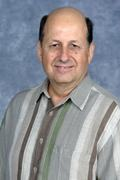 Dennis Wiedman
Associate Professor
Global and Sociocultural Studies
---
Office: SIPA 327
Phone: 305.348.2262
Email: wiedmand@fiu.edu
Bio
Research interests include medical anthropology, North American Indians, organizational culture, applied anthropology, environmental anthropology and ethnohistorical research methods. A research specialty is the increase of diabetes and the metabolic syndrome with the globalization of modernity. His fieldwork extends from the Miccosukee of South Florida, to the Delaware, Apache, and Cherokee of Oklahoma, to the Inupiat of northern Alaska. Publications include Ethnohistory: A Researcher's Guide, as well as articles in Human Organization, Medical Anthropology, and the Journal of the American Dietetic Association.
Since joining the Department full-time in 2004, Dr. Wiedman has taught graduate courses in Applied Anthropology, and Organizational Culture. At the undergraduate level he has taught Anthropological Theories, Research Methods, American Indian Ethnology, Native American Religions, Anthropology through Film, Medical Anthropology and Sociology.
He has served as President of the National Association for the Practice of Anthropology, Executive Board member of the American Anthropological Association, Co-General Editor of the NAPA Bulletin book series, and Treasurer of the Society for Applied Anthropology. For thirteen years he worked in FIU's Provost Office leading strategic planning, academic policy development, university accreditation and program evaluation.
Areas of Expertise
Medical Anthropology, Native American Studies, Organizational Culture, Applied Anthropology, Environmental Anthropology and Ethnohistorical Research Methods
Degrees
PhD, University of Oklahoma, 1979