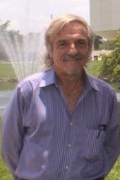 Abraham D. Lavender
Professor
Global and Sociocultural Studies
---
Office: SIPA 334
Phone: 305.348.3672
Email: lavender@fiu.edu
Bio
A native of South Carolina, where my ancestors have lived since the late 1700s, from Charleston on up into the "frontier," I received my bachelor and master degrees in psychology from the University of South Carolina. While at USC, I was president of the Hillel (Jewish) Foundation, a member of Zeta Beta Tau social fraternity, a graduate of the AFROTC program, and graduated cum laude (c. top 7% of class). I also became involved in my first protest activity, opposing racial segregation, in the Civil Rights Movement, at USC. After graduation, during the Viet Nam War years, I served four years in the U.S. Air Force, going from second lieutenant to captain, living in Warrensburg, Missouri, and Izmir (NATO support), Turkey. In Missouri, I was Personnel Casualty Officer, personally assisting survivors who had lost loved ones, mostly in Viet Nam, and in two cases having to tell a wife, child, sibling, or parent, that a husband, father, sibling, or son had been killed. In Turkey, which was very enjoyable, I learned much about living in, understanding, and respecting an Islamic culture, and also visiting many very historic sites including the famous Ephesus. I also was active socially in the Spanish-Portuguese Jewish (Sephardic) community in Izmir, a community that had been invited by the Sultan to the Ottoman Empire after their ancestors had been exiled from Spain or Portugal (my ancestors went in another direction). My military duties, among others, involved serving as base Education Officer. I also taught a social psychology course for the University of Maryland's Overseas military program.
Ten days after completing my four years in the Air Force, I began work on my doctorate at the University of Maryland in College Park, suburban Washington, D.C. There, the internationalism, multiculturalism, political and cultural intensity, and political protests involving the Viet Nam war added an exciting segment to my life. In 1972 I received a Ph.D. in sociology, with a doctoral dissertation on generational changes in Jewish identity in the United States. I have continued my research in Judaic Studies since then, with a specialization in Sephardic (Spanish and Portuguese) Jews, and with a major interest in descendants of the secret Jews of Spain, Portugal, and Italy. I am the founding editor in chief of the Journal of Spanish, Portuguese, and Italian Crypto-Jews (JOSPIC-J), published annually with support from the School of International and Public Affairs (SIPA) at FIU, the Society for Crypto Judaic Studies, and the Martin Sosin Foundation in Los Angeles.
Work has recently begun on Volume 6 of JOSPIC-J, with Crypto-Judaic Languages and Literature as the specific (but not exclusive) theme for this issue. Serving as editor of the journal comprises a major part of my academic work each year. But, my interest in ethnicity is very broad, including significant attention to Hispanics, Blacks, and others. My six books published so far (authored, edited, co-authored, or co-edited) include A Coat of Many Colors: Jewish Subcommunities in the United States (1977), Jewish Farmers of the Catskills: A Century of Survival (1995), Black Communities in Transition: Voices from South Florida (1996), French Huguenots: From Mediterranean Catholics to White Anglo-Saxon Protestants (1990), and Ethnic Women and Feminist Values: Toward a New Value System (1986). In regional studies of South Florida, I have authored Miami Beach in1920: The Making of a Winter Resort (2002). My seventh book, Miami Beach's Early Social Life: From Mangroves and Mosquitoes to Mansions and Millionaires, is in progress. In addition, two other publications on Miami Beach are a monograph entitled Jews, Hispanics, Blacks and Others in Miami Beach: An Ethnically Divided City or a Cosmopolitan Multiethnic City? (1992; the answer is cosmopolitan multiethnic city), and "A History of Jewish and Hispanic Interaction in Miami-Dade County, Florida," published in Latinos and Jews: Old Luggage, New Itineraries (2002).
In addition to the books, my total scholarly publications so far include about 58 articles in refereed journals. The majority of the articles are about ethnicity, with an emphasis on Sephardim and other Jewish groups, but also including ethnicity in general and a diversity of ethnic groups (e.g., French Huguenots, African-Americans, Arabs, and Hispanics). Other topics are also included, with articles ranging from "Societal Influences on Sexual Dysfunctions" to "The Distinctive Hispanic Names (DHN) Technique: A Method for Selecting a Sample or Estimating Population Size." My publications also include 32 published research reports, 16 commentaries, 42 encyclopedia/reference book short articles (ranging from "UFO Evidence" to "Black Face: The History of a Racial Stereotype"), and 43 scholarly book reviews (ranging from "Jews in Libya" to "The Cuban-American Experience: Culture, Images, and Perspectives"). I give about 10 academic talks annually to local groups, especially on crypto-Jews, Jewish-Arab comparisons, and social, national, and religious DNA comparisons.
I am the founding president of the Miami Beach Historical Association, president of the South Florida Chapter of Phi Beta Kappa, president of the Men's Club (collaborating with the Sisterhood) and on the Board of Directors of Temple Beth Tov Ahavat Shalom, and librarian of Hibiscus Lodge # 275 of Free and Accepted Masons. In past years I have been a board member of the local American Civil Liberties Union, President of the Huguenot Society of Greater Miami, and program vice president of the Jewish Genealogical Society. In Miami Beach I served 4 years on the Miami Beach Housing Authority, including a year as vice-chair, served as chair of the Homeless Committee for 1 year, and served several years on the Safety Committee. Much of my civic involvement has been in Miami Beach where I have received one Key to the City, one Distinguished Citizen Award, and four Certificates of Appreciation, mostly for helping advance the city's history and for helping increase Hispanic representation in city government.
Genealogy has been a very strong interest of mine since I was a teenager. I remain an avid genealogist, now also with a strong interest in DNA research, both academically and personally. One recent unpublished article mixing genealogy and DNA is "Where in the World Are Benjamin Lavender's Distant Cousins?"/"¿ Donde Están en el Mundo los Primos Distantes de Benjamin Lavenda?" which I presented at my family reunion in South Carolina in 2010. (Benjamin Lavender was my great-great-great grandfather who was born in North Carolina around 1770 and moved to South Carolina around 1790, settling close to where I was born and raised). If we go back about 500 years, to the time of the expulsion of the Jews from Spain, my highest DNA matches, in order, are in northern Italy; Cologne, Germany; and Central Portugal. Today, most of my male-line distant cousins are in western Europe, southern Europe, or Latin America. Of those cousins in the United States, 64% identify as "just" European background without further specification, 16% identify specifically as Hispanic, and 20% identify specifically as African-American. Of the cousins in Latin America, 34% identify as "just" European background (detailed choices were not given, but most would probably be from Spain or Portugal), 63% identify as Mestizo (mixed European, especially Spanish, and Native American), and 3% identify as African ancestry. Another DNA test, looking at all of my ancestors, not only the paternal line, suggests that my closest DNA cousins are mostly in Spain, including, strongly, the chuetas (secret Jews) of the island of Mallorca. We have many ancestors (2 x 2 x 2 x 2 etc. can get very big very fast), so there is no DNA test strong enough to be totally accurate for so many ancestors. But the above conclusions are at least suggestive of my total ancestry.
In addition to Abraham Lincoln, my other major American heroes are Thomas Jefferson, Benjamin Franklin, and Reverend Martin Luther King, people who had a high level of consciousness, open mindedness in general, insight, the ability and strength to think outside of the box and march to their own drummer when necessary, and who had the courage to be different and do the right thing despite opposition and stigmatization. As a little farm boy growing up in South Carolina (my father owned two farms and was a merchant), my parents taught me the old-fashioned values of honesty, fairness, justice, respect, consideration, decency toward others, and manners. I try to honor and follow those values. While I have lived in New Zion, Columbia, and Charleston, South Carolina; Amarillo, Texas; Knob Noster, Missouri; Izmir, Turkey; College Park, Maryland; and Miami, Florida (since 1977), I still visit South Carolina frequently and have land on Johns Island, just outside of Charleston, where at some point in the future I will build a second home. I still visit the small village where I grew up in South Carolina, and where my great-grandfather William E. Lavender was, for a while, the Post Master (with the post office in his yard), the local Judge, owner and operator of the largest two-story country store, owner of the cotton gin, a trader in land, and the owner and operator of a farm which varied in size as he also bought and sold considerable amounts of land.
My major teaching areas are the Anthropology of Race and Ethnic Relations, and the Sociology of Sexuality. In addition, other courses I regularly teach are Social Deviancy and Sociology Through Film. Other courses I teach sometimes, depending on enrollments and departmental needs, include Political Sociology (undergraduate and graduate), World Jewish Communities (undergraduate and graduate), and the Sociology of Men. I also have taught African Diaspora (graduate), Seminar in Ethnicity (graduate), and Social Conflict (undergraduate).
My most recent academic articles are "Moses Levy (Ha-Levi ibn Yuli): A Sephardi From Morocco Who Became Florida's First Prominent Jew" (summer 2013) co-authored with Dryss Elibrahimi, and "Crypto-Jews and Crypto-Muslims in Spain: Cultural, Economic, and Geographical Comparisons of Marranos and Moriscos" (spring 2012) co-authored with Mohamed Aburadi. In addition to completing my second book on Miami Beach history, my current research is focused on the descendants of the secret Jews of Spain, Portugal, and Italy. Recent community presentations include a talk on the Moses Ha-Levi ibn Yuli paper with Dryss Elibrahimi, "Mozart, the Magic Flute, and the Freemasons: What the Magic Flute Says About All of This," "Baruch, Bento, and Benedicto Spinoza: Factors that Led Him From Being a Serious Jewish Student to Being Excommunicated by His Sephardic Community," "The History of Gambling on Miami Beach," and "How Many Palestinians Have Jewish DNA? A Controversial Topic that Both Sides Prefer to Ignore. Another topic of interest for research is reincarnation from different cultural perspectives. 10/14/13
Areas of Expertise
Ethnicity, Jewish Community, Sephardic Studies, Crypto-Jewish Studies, Sociology of Sexuality, Political Sociology, Regional Studies (South Florida), Social Deviance
Degrees
PhD, University of Maryland, 1972