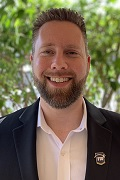 Ryan Charles Meldrum
Professor, Director of Research & Communications
Criminology and Criminal Justice
---
Office: MARC-270/PCA-364B
Phone: 305.348.5849
Email: rmeldrum@fiu.edu
Bio
Dr. Meldrum's areas of expertise include the causes and consequences of low self-control, the link between poor sleep quantity/quality and adolescent antisocial behavior, and the role of peer associations in the etiology of delinquency and substance use. His research has appeared in such journals as Criminology, Justice Quarterly, Journal of Quantitative Criminology, Journal of Research in Crime and Delinquency, Developmental Psychology, Criminal Justice and Behavior, Journal of Criminal Justice, Crime & Delinquency, Sleep Health, Intelligence, and Journal of Youth and Adolescence, among others. He is the winner of the 2016 Academy of Criminal Justice Sciences New Scholar Award, was named a 2016 FIU Top Scholar for Research, and was named a 2019 FIU Top Scholar for Student Mentorship.
Dr. Meldrum's teaching interests focus primarily on Research Methods and Criminological Theory. In addition, he developed the course Biosocial Criminology, which teaches students about cutting edge cross-disciplinary theory and research on the neural, genetic, and biological underpinnings of antisocial behavior and how these factors intersect with social factors emphasized by mainstream criminological theories.
Dr. Meldrum serves as an editorial board member for Journal of Criminal Justice, Journal of Youth and Adolescence, Adolescent Research Review, and Youth Violence and Juvenile Justice. He also serves as an ad hoc reviewer for several journals, including Criminology, Justice Quarterly, American Journal of Criminal Justice, and Youth and Society.
CV: Curriculum Vitae
Website: www.criminologydoctor.com
Twitter: @DrMeldrum
Selected Publications
Meldrum, Ryan C., Campion Young, Brae, Soor, Sadhika, Hay, Carter H., Copp, Jennifer, Trace, Madison, Smith-Darden, Joanne P., and Poco D. Kernsmith. 2020. "Are adverse childhood experiences associated with deficits in self-control? A test among two independent samples of youth." Criminal Justice and Behavior, 47, 166-186.
Lehmann, Peter S., Meldrum, Ryan C., and Mark A. Greenwald. 2020. "Upward departures from structured recommendations in juvenile court dispositions: The intersection of race, ethnicity, and gender." Justice Quarterly, 37, 514-540.
Meldrum, Ryan C., Jackson, Dylan B., Zgoba, Kristen, and Alex Testa. 2020. "Sleep duration, handgun carrying, and taking a handgun to school: An analysis of a statewide sample of Florida youth." Sleep Health, 6, 153-158.
Areas of Expertise
Criminological Theory | Developmental Correlates of Delinquency | Biosocial Criminology | Sleep & Behavior | Prosecutorial Discretion | Punishment of Juveniles
Degrees
Ph.D., Florida State University, Criminology & Criminal Justice, 2010
M.S., Florida State University, Criminology & Criminal Justice, 2006
B.S., Oregon State University, Sociology, 2004